About Value Situations
Value Situations is an investment ideas and research newsletter dedicated to identifying mispriced or undervalued companies and situations in the public equity markets.
Value Situations employs an analytical framework that is differentiated to conventional sell-side analysis in three respects:
Valuation - equities are fractional ownership interests in businesses, and as such the equity of "target" companies is valued from an acquirer's perspective as if the entire enterprise is being acquired by an informed purchaser.

Downside Risk Assessment - downside protection is a critical component of investment analysis, yet is usually ignored in conventional equity research. Investing is inherently risky and no investment thesis is 100% certain, therefore the consideration of a "What if I'm wrong and how much can I lose?" scenario is essential in understanding the true risk profile of an investment.

Asymmetric Risk/Return Profile - combining fundamental valuation work with an honest appraisal of downside risk, Value Situations seeks out public equity opportunities with a clear asymmetric risk/return profile where the upside to intrinsic value is a multiple of the downside risk.
In terms of opportunity set, Value Situations focuses primarily on the European and US equity markets, seeking out opportunities with 50% - 100%+ upside usually among small and mid-cap companies. Target equities are typically underfollowed, out-of-favour or misunderstood names, rather than widely-followed large-caps or "media darling" stocks.
Click on the Subscribe button below to receive the Value Situations newsletter and reports directly to your inbox:
Why Subscribe?
Subscribers to Value Situations get access to thoughtful, institutional-quality equity ideas that are:
Actionable or approaching actionable levels.

Creative and original, rather than formulaic and conventional.

Independently originated and 100% subscriber supported, free from conflicts of interest or other commercial considerations.

Unconstrained in terms of market cap, sector or any mandated coverage universe.
For a cost of $500/year or $50/month, subscribers will receive the following:
Ideas - Approx. 10 - 12 ideas per year, across three category types:

Quick Sits - short-form write-ups of actionable ideas that I regard as opportunistic, value trades e.g. Saipem (up ~75% in ~6 months since I highlighted it) or SLCA (which appreciated 110% in ~6 months between publication in Oct-21 and Apr-22 peak last year).

Watchlist Ideas - equity ideas that are potential conviction ideas that are not yet actionable, but approaching actionable levels.

Conviction Ideas - longer-form, investment memo style write-ups on actionable, conviction ideas (typically 2-3 year investment holds - e.g. Total Produce/Dole Plc, Dalata Hotel Group Plc, Deep Breath, Deep Value, Gas Panic!, A Fertile Value Situation).

Access to the Value Situations Model Portfolio, including details of new additions or other updates to the Portfolio as I make them - the Model Portfolio comprises my best ideas that I believe offer the best risk/return opportunities using my own original analytical framework.

Comments Section access for all articles.
If the Value Situations offering is of interest to you, please consider signing up by clicking Subscribe below:
Please also considering sharing Value Situations with friends, colleagues and contacts by clicking Share below:
About the Author
Value Situations is written by Conor Maguire, a former private equity/special situations investment professional based in Dublin, Ireland.
Prior to establishing Value Situations, I worked at Bain Capital, one of the world's largest alternative investment firms, where I originated, invested and managed a diverse range of investments across private credit, direct equity, special situations and public equities strategies.
I can be contacted via the following channels:
Email | conor@valuesits.com
Twitter | @ValueSituations
Linkedin | Conor Maguire
What People Are Saying
Value Situations has received widespread recognition online for ideas published to date: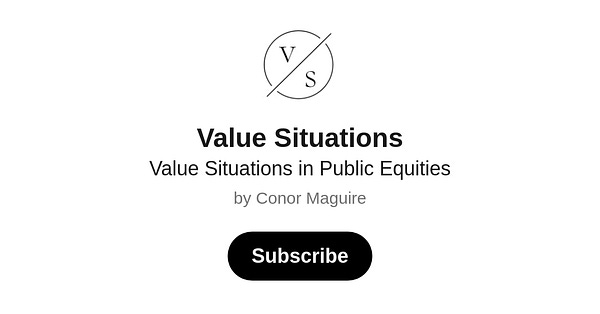 valuesits.substack.com
Value Situations
Value Situations in Public Equities
Value Situations was named as one of the Top 100 Must Follow Stock Research accounts by Edwin Dorsey of The Bear Cave Newsletter:
Disclaimer
Value Situations is NOT investment advice and the author is not an investment advisor.
All content on this website and in the newsletter, and all other communication and correspondence from its author, is for informational and educational purposes only and should not in any circumstances, whether express or implied, be considered to be advice of an investment, legal or any other nature.  Please carry out your own research and due diligence.

Subscribe to Value Situations
People